Nanoparticle Deposition
Specialists
Nikalyte have drawn on more than 20 years of experience to bring you the best nanoparticle deposition equipment available.  Whether you're an experienced user or just starting out, we have the equipment you need.  Our systems and components operate under vacuum so all the background material impurities are removed, creating ultra-pure, non-agglomerated nanoparticles.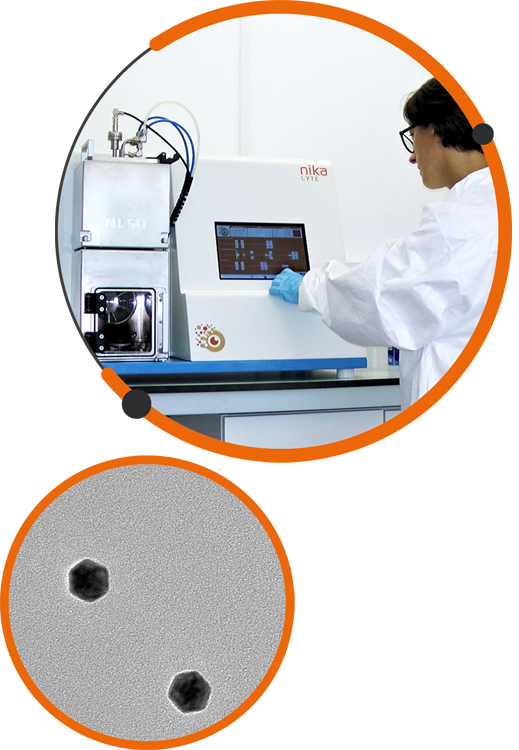 Ultra-pure Nanoparticle Technology
Nikalyte offers a range of nanoparticle deposition equipment to suit your application from benchtop recipe controlled deposition with the NL50 to UHV equipment with complete user control over nano particle size and composition. Alternatively take advantage of Nikalyte's extensive experience with our bespoke coatings service.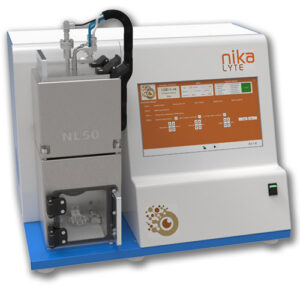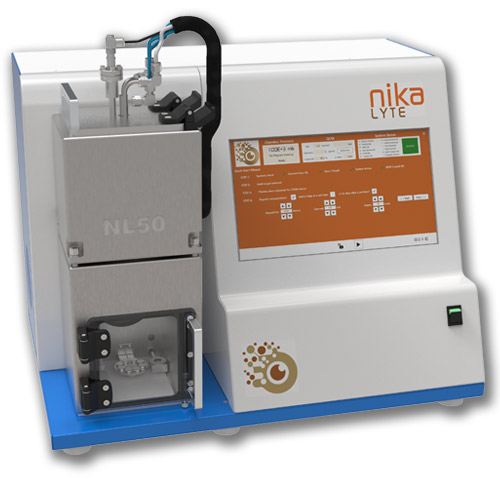 Benchtop Nanoparticle deposition
Nanoparticles at the push of a button.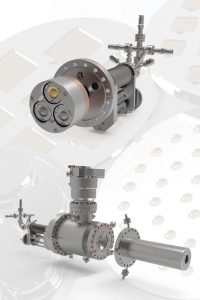 UHV Nanoparticle Deposition
Deposit pure and alloy nanoparticles with fine control over size and composition.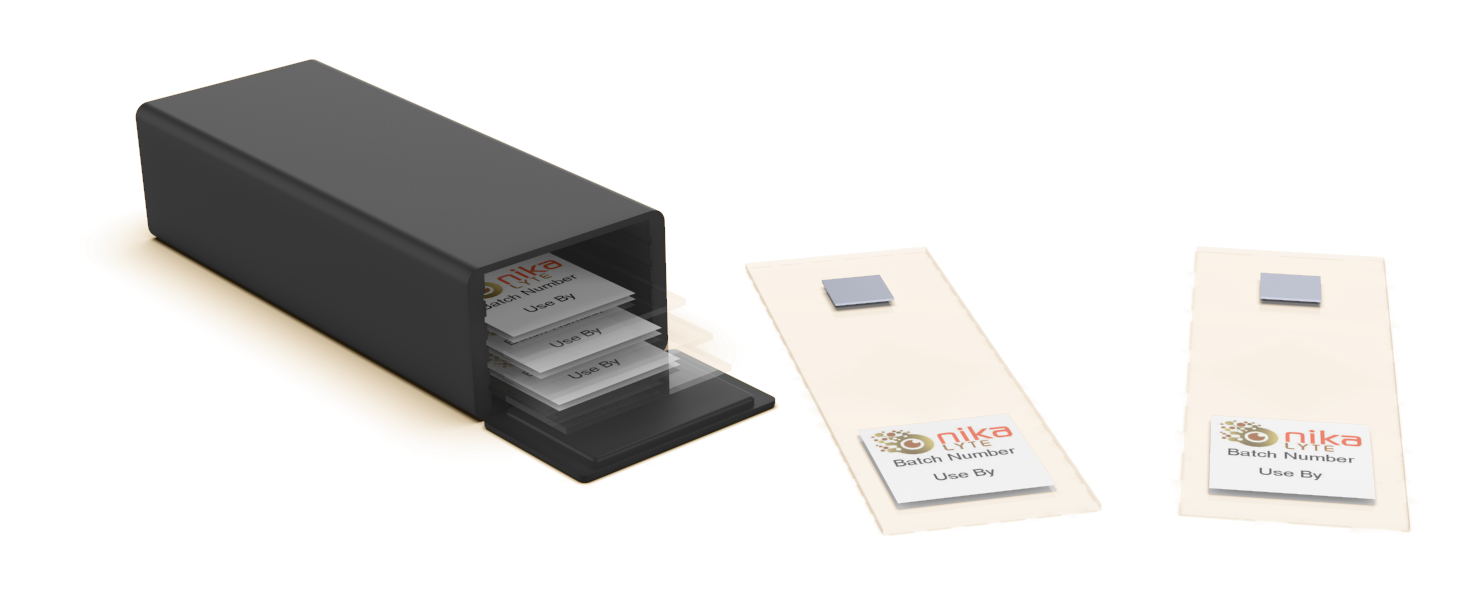 Nanoparticle SERS substrates with ppb sensitivity. Chose from silver or gold.
Advantages of nanoparticles deposited in vacuum
Nanoparticles deposited in vacuum are free of hydrocarbons and other contamination which typically plague chemical techniques. Nanoparticles deposited in the NL50 are:
The above properties enables vacuum deposited nanoparticles to boost performance and sensitivity whilst also reducing the required loading of expensive materials for applications such as SERs and catalysis.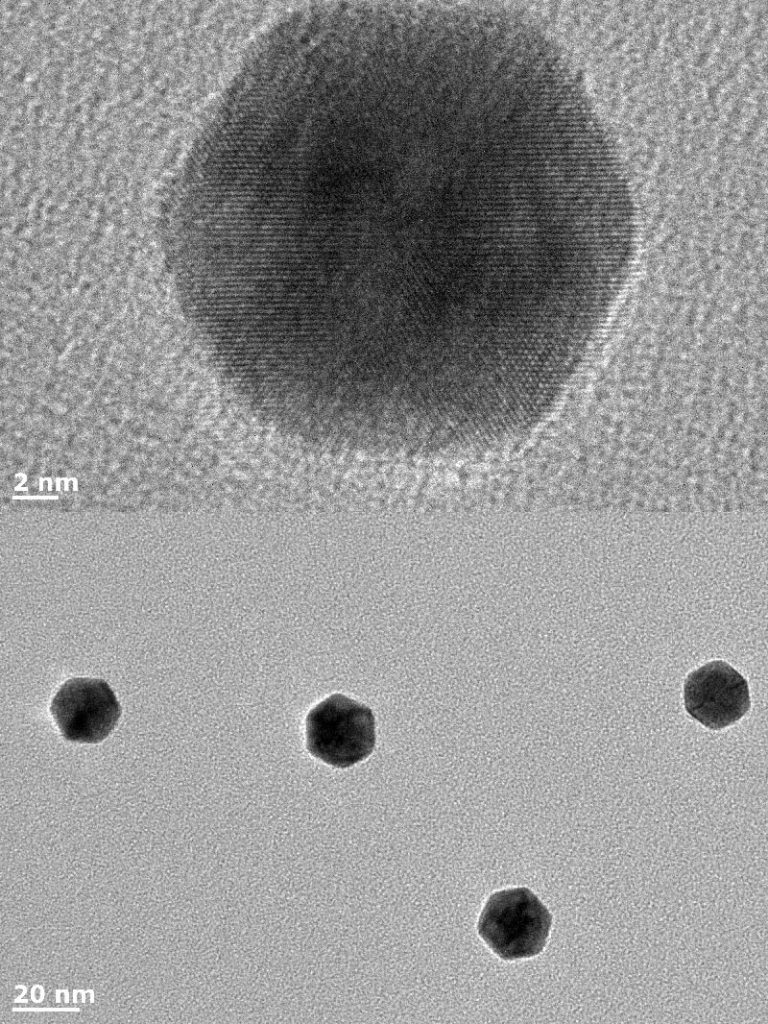 How nanoparticles are generated and deposited in the NL50 Benchtop Nanoparticle Deposition System.
"What I like about the Nikalyte SERS substrates is that they combine the ease of use of regular SERS substrates with the reproducibility of liquid SERS approaches. I have worked with other wet deposited substrates before and was always concerned by the large spatial inhomogeneity that I observed. Based on my initial tests, Nikalyte SERS substrates offer significant enhancement of the Raman signal, with better reproducibility."
As an engineering student in Malta, it can sometimes be difficult to find certain specialized services such as silver nanoparticle deposition. After some research, I came across Nikalyte. They were helpful from the very first email I sent, guiding me throughout the whole process. Whatever I needed, they delivered it surpassing my expectations. I couldn't be happier with the service that they have provided! I would highly recommend them for any nanoparticle deposition service that you need!
'I have always found the team at Nikalyte very helpful and quick to respond and arrange sessions. The versatility of their deposition method means that I have been able to deposit copper, gold and nickel nanoparticles on a huge variety of substrates from glass and gold to cotton and paper! This has opened up lots of opportunities for my work on sensor fabrication.'
"The SERS worked outstandingly. I was able to get hits down to 2% w/w with real street samples. The data correlated with a Mass spec".
'The NL-DX3 has delivered an important new capability within our catalysis group which includes research in both heterogenous and electrocatalysis. Having 3 sources provides new opportunities for our electrocatalysis group as it enables us to deposit alloy nanoparticles as catalysts for the oxygen evolution reaction with the aim of replacing Ir-based catalysts. In addition, in the first few months of operation, the nanoparticle source has received numerous displays of interests for potential collaboration with groups within the University and from national facilities. From the outset, Nikalyte have delivered outstanding customer support, taking time to ensure that we understood the capabilities and function of the nanoparticle deposition system. Further to this, they have shared their expert advice and knowledge to help us make certain that our bespoke system design would be suitable for the source and respective software. When we faced setbacks in the manufacturing of our custom chamber, Nikalyte went above and beyond to deposit nanoparticles for one of our beamtimes allowing us to continue our work and prepare for future beamtime applications. The professional and personable customer service we received made the decision to apply for the Royce Materials Accelerator Challenge Programme in conjunction with Nikalyte an easy one. We are now heading into the 5th month of the programme and the collaboration has been very worthwhile in the development of alloy nanoparticle deposition here at the University of Oxford.!
Antiviral nanomaterials join the fight against SARS-Cov-2​
Copper and silver have well-reported antiviral properties, while gold nanoparticles are helping to deliver early detection and antibody tests for Covid-19. With up to 1000 times larger active surface area nanoparticles offer the potential for enhanced properties compared to simple 2D surfaces in addition to reduced material costs.  Nanoparticle coatings have also been shown to be highly effective at fighting viral transmission and infection, by suppressing viruses on a surface before they can infect a new host. The combined effect of the high surface area and natural virucidal properties make nano-coatings an important and cost-effective option for sanitizing high contact surfaces.
Our technology generates nanoparticles in vacuum which are ultra-pure, monodisperse, hydrocarbon free, and ideally suited for antiviral research. Contact us to find out more.